THIS IS US… and Our Mission, Vision, and Values Too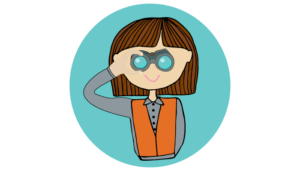 We've been writing about strategy and how to inspire employees, so I thought I would share what inspires us. 
First, my story.
It all started over 20 years ago when I worked at an incredible company. On my first day, everyone I met in the elevator actually said 'hi' and the President popped into my office and sat down to talk to 20-something me. Whoa!!! Working at this company was probably one of the best times of my life. I felt connected to the organization and motivated by a greater purpose. As part of the communication team, we were deeply involved in employee communication and the many activities and events that advanced that great culture. Since then, I have always strived to use my skills and experience to create more workplaces that are as great and have done a lot of studying and research to develop a deeper understanding of how these organizations are built.
After my first child was born, I decided to work for myself. My now ex-husband was extremely supportive and so my journey as an entrepreneur began. I set up shop offering marketing and communication services to clients. I was always busy and soon the work grew to include some major change management initiatives with the Government of Canada. I also did a wide range of things – marketing, public relations, and websites but the majority of my company earnings came from employee communication projects and change management work.
I met good people and had them join me to work on some projects, I  got my kids to do the filing, IT support, and bookkeeping. I worked a lot of weekends and nights. I  slowly started to grow but I continued to cast a wide net and was trying to be all things to all clients. You see, I was afraid to really specialize because I didn't want to turn away business. 
Three years ago, I finally had the courage to shift my company to focus completely on employee communication.  In some markets such as the UK, internal communication is a thing. In Canada, it's not widely recognized as a practice where specific expertise, skills, and experience are applied. I saw an opportunity to apply the years of experience working in this area, and all of my research and study. Most of all, employee communications was something I felt passionate about. I knew I wanted to contribute in a meaningful way to building great organizations.
My vision for the company was to be a boutique creative agency working on a wide variety of employee communications projects for companies who want to build extraordinary workplaces with strong cultures and motivated and connected employees. I developed my own approach based on the three main communication gaps I had seen for years in organizations and how different types of communication serve different types of employee needs.
Throughout this journey, I have done a lot of research and thinking about values. I have watched and learned about leading companies with great cultures and developed an understanding of the values that underpin their success. These values happen to align perfectly with my own personal values. I believe in being an open book and want to trust everyone (I may slip up with my 16-year old son occasionally – sorry Aidan!). I like to have fun and I want the people who work with me to feel great about what they do and have the ability to do good work. Most of all, I want our clients to enjoy working with us and quickly see the difference great internal communication can make in their organization.
That's us. Read more about our mission, vision, and values.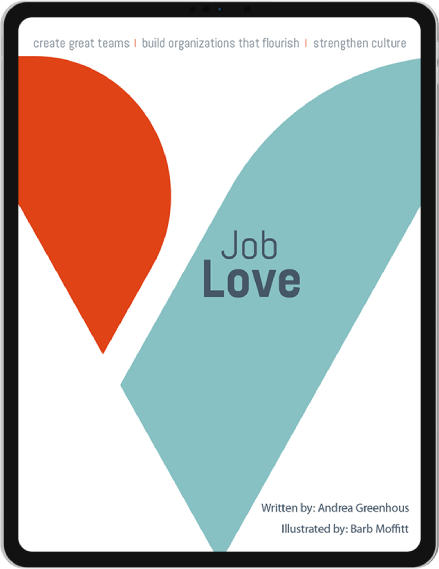 Job Love
Read The Free eBook.
This book looks at fundamental drivers of successful human relationships and applies them to the employee experience. Andrea shows how trust, respect, and even passion can be fuelled in the workplace with the right approach to internal communications.
Download the ebook