Follow These Five Tips and Your Business Strategy Will Pay Big Dividends
You spent months analyzing the trends and understanding your competition. You have a killer business strategy and now it's time to execute and deliver.
Don't forget that you need to help  all employees understand the strategy and what it means to them. A startling forty percent of employees do not understand where their company is going. To get a sense of how this negatively impacts your organization, picture being on a boat with five people trying to get to shore and two people are rowing back out to sea! How frustrating is that for everyone and how quickly do you reach your destination???
Avoid spinning in circles by communicating your strategy internally. Not only is this an opportunity to get everyone pulling in the same direction, but it is an incredible way of inspiring employees and driving commitment.
Here are the six essential steps to communicate your strategy so that everyone is motivated to succeed:
1. Develop an internal communications strategy and plan
As always, start with a communications strategy to capture the essential thinking behind how you will communicate the strategy to employees. Remember the five elements: establish goals, know your audience, develop compelling messages and identify your key performance indicators or metrics. Then develop your tactical plan with appropriate materials and channels.
2. Start with why
Your people are smart and so it is important make sure they understand the rationale behind the strategy. Helping them see the trends and opportunities that helped you design the strategy will increase their buy-in by giving them a deeper understanding and satisfying their natural curiosity. For example, if you see growth in a particular market – show people the numbers that got you excited because chances are they will see the same opportunity that you did.
3. Make it clear and simple
Your people may be smart but they are not robots so eliminate the jargon and use words that everyone can remember and understand. Make it easy for every employee to understand where they fit by connecting their role to the strategy in terms they can relate to. For example, if the success of your strategy depends on an amazing customer experience, be clear about the behaviours and decision that you expect of your customer-facing staff.
4. Keep it positive and inspiring
Use the power of words and images to motivate your employees. Tap into their pride and professionalism and use language that is unique to your industry and compelling to help set their sights high. High impact messages combined with the right tactics can make a difference. Having a CEO who reaches out and makes herself available to all employees with a roadshow or live interactive video broadcast can be very powerful.
5. Be consistent and celebrate success
These might be two tips in one, but the point I want to make is that connecting people to the strategy has to be an ongoing activity and should include recognizing when you have made progress. For example, town hall meetings are a great opportunity to talk about the strategy including what is working and what isn't. You can also use the town hall to celebrate achievements that directly support the strategy. This will help to maintain and even accelerate momentum.
6. Consider change management
If your strategy means a change in direction, consider change management activities such as leadership alignment, training and performance support. Your people may need to learn new skills or behaviours, or perhaps mindsets need to change before you can drive the strategy forward. Take a good look at how you reward and recognize people too – these may require some tweaks or a large-scale overhaul.
Ready to turn your strategy into reality? Give us a call and we will help make sure everyone is pulling in the right direction.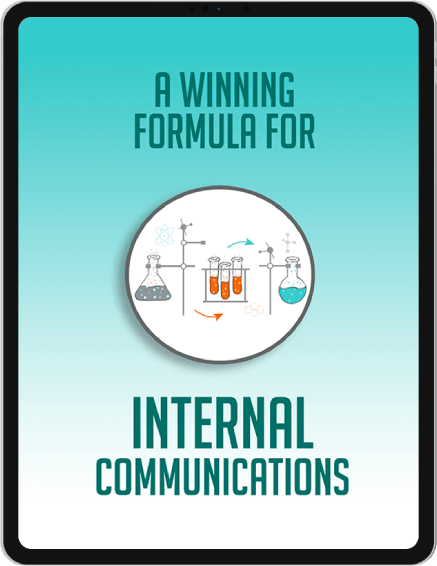 A Winning Formula for Internal Communications
Read The Free eBook
Our eBook shares our unique formula for building business culture and driving success. Find out the 3 key factors in attracting, inspiring and retaining high-calibre talent. Get your free copy when you subscribe to our newsletter. Be the first to know about new blog posts and stay up to date with industry news.
Download the ebook