Case Study: Employee Recognition
ALCATEL LUCENT – A STAR IS BORN!2>
When Alcatel and Lucent merged, a new recognition program was launched to recognize and reward employees for a job well done.
The Challenge
Alcatel employees had a generous recognition program while Lucent employees did not have a recognition program at all. The new program provided a much smaller award in dollar terms than the former Alcatel program and could potentially be perceived as a reduction in benefits. On the other hand, Lucent employees did not have a recognition program at all so the new program was a plus. How could communications address both audiences, present the new program positively and generate excitement?
The Solution
Vision2Voice Communications understood that recognition is about demonstrating appreciation for excellence. Recognizing that an employee did something special and contributed to the success of the organization is every bit as important as the reward itself. In fact, studies show it is more important. We thought, regardless of the amount of the award, communications should focus on the element of recognition, build positive energy, and excite employees.
The name of the program was called Night Out and our approach was to play on the theme of a night out, recognizing that every person probably has a different idea of their ideal night out (could even be a nice brunch). And while the reward was not as generous as the potential rewards under the former Alcatel program, using the concept of a star, builds on the idea that you are rewarding an important contribution and that the money can be used for a special treat. And, it tied in nicely with the name of the program.
A Star is born – Creative
We introduced the concept that employees receiving the award would be considered stars in the eyes of the organization. Now who doesn't want to be a star? We chose an illustration that tied in with this theme of people celebrating in front of a stage under a starry night sky. The text played on the theme – "Reach star status, and we will reward you with a night out!"
The creative was used in a number of elements including:
Poster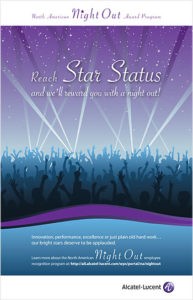 Banner Ad and Other Web Graphics

Other deliverables included
Backgrounders and key messages for human resources
Backgrounders and key messages for people managers
Web content including an announcement
Email to all employees
Points to remember
Actively encourage great performance. Recognition programs are an important way for organizations to encourage employees to achieve its vision and mission, and to live its values.
Leverage the power. A great recognition program has the power to reinforce positive actions and results, and motivate employees.
It is not about the amount. What really matters is the recognition itself.
Make it fun. This will help to engage your employees and generate excitement.