We Need New Thinking about Change in Organizations – Here's Why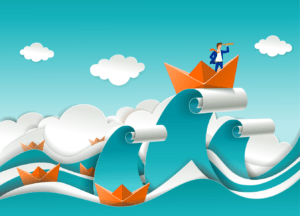 We have a strict rule: never use acronyms. We also have another rule: rules are made to be broken — especially when the acronym describes an important concept that senior leaders and internal communications professionals should understand. VUCA is an acronym that should be on everyone's radar, and more than that, you need to know what to do about it. 
An Acronym Explained
VUCA stands for volatility, uncertainty, complexity, and ambiguity. As a concept, it gained popularity when the U.S. Army War College began using the term to describe the security environment after the Cold War. Today, organizations are using the concept of VUCA to help them define their strategy to succeed in a rapidly changing world. 
The VUCA framework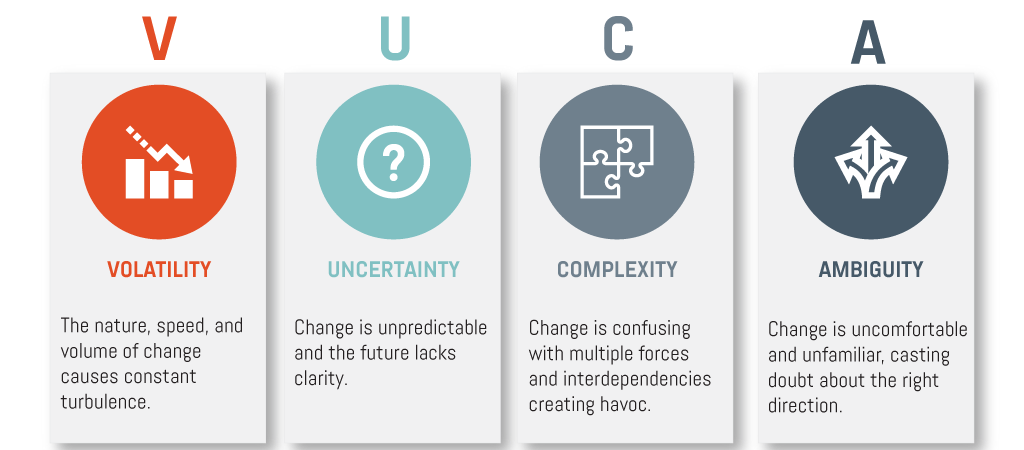 Reframing Change
The COVID-19 pandemic has taught organizations some valuable lessons. One of these lessons is that you can't ignore the fact that we live in a VUCA world. There will be more change and disruption and it will happen faster and be more difficult than ever before. Yet in many organizations, leaders and executives tell us that their people have change fatigue and they worry about what to do about the additional changes that they want to implement. That's when our phone usually rings. 
It's true, we've managed many large change initiatives for organizations. But we've also witnessed poorly managed change that becomes difficult and exhausting. Over time, we've come to realize that it doesn't have to be this way. We believe that there is a better way and that starts with building a culture where people thrive on change. 
Reframing change requires a huge mindset and culture shift. But if organizations are going to flourish in a VUCA world, it's the only way to prevent change fatigue.
Thriving on Change
A culture that thrives on change is one where people are comfortable with being uncomfortable. In these cultures, employees have a learning and growth mindset, and they aren't afraid to share critical information. Transparency is a given and levels of trust are extremely high. Most of all, building a shared understanding is at the forefront of all actions leaders take.  
This doesn't mean that people are unsupported or pushed beyond their limits. Quite the opposite, these organizations invest in people and provide them with the resources they need to excel at change. 
Best practices for internal communication in a VUCA World 
Build these into your internal communications strategy …. 
Transparency 
Understanding is key to building an organization that thrives on change. By being transparent, you can build greater understanding.
Be open, honest, and direct. 

 

Help people understand your organization's purpose and strategy (what you need to do to win).

Clearly convey 

direction, priorities and empower people to take ownership of their work. 

Communicate often and in a way that's predictable

.
Tip:
 Have
leaders provide w
eekly update
s
to dis
cuss
 goals and progress, allow
ing
 space for questions and open discussion
Trust
A lack of trust breeds fear in organizations whereas high trust helps people flourish. 
Demonstrate trust and respect at every level

 

Insist on authenticity

 

Tackle issues head-on

 
Tip:
 Establish trust by communicating how decisions are based on trust. For example, "we will not mandate vaccination because we trust that people will do the right thing when it comes to deciding what's right for their health and the health of others."
Learning and growth mindset
Creating an environment where employees can embrace a learning and growth mindset allows space for overcoming obstacles and encourage perseverance.
Acknowledge

 and embrace imperfections

 

Provide feedback 

 

Give employees the opportunity to develop skills 

 
Tip
: 
Encourage employees to have learning goals, check-in with those goals each quarter. 
Psychological safety
 In a fearless organization where leaders listen with open minds and where employees feel safe to speak up, people are involved in shaping the change. They may even be the force behind it. 
Invite people to speak up by asking the right questions.

A

ctively recognizing the importance of employee voices

. 

 

Include 

people who are experiencing the change

 in conversations about what's happening.

 
Tip
: Create an 
active 
online forum where employees can ex
press their concerns surrounding the change where they know leaders will see their comm
ents. 
Connection
When people have strong, meaningful relationships at work, they feel supported during times of change and uncertainty.
Provide a space for storytelling.

Use tools that facilitate efficient communication.

 

Celebrate success stories and wins.

 
Tip: Host a social event to celebrate progress giving employees space and time to interact in a relaxed environment.
We simply cannot let the hard lessons of the pandemic be wasted or forgotten.  
To emerge from the pandemic better than before, start with a strategic approach to communication that helps your employees thrive in a VUCA world. Include the steps and tools we've outlined above to create an environment that encourages trust, a growth mindset, psychological safety, and connection.
At Vision2Voice, we specialize in helping organizations navigate through this VUCA world. Email us now for more information.