Is Love the Answer? How Creating Job Love Can Get Us Through These Tough Times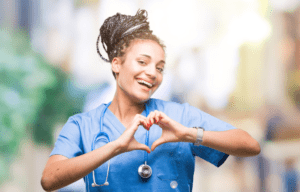 There's a very good reason the Vision2Voice logo is in the shape of a heart.
The reason is this: to build a culture that helps organizations achieve more, you have to connect with the hearts of your employees, and you have to build a loving relationship with them. That's right. A loving relationship. And at no time has this been more important than right now.
Organizations are Unravelling
I am starting to see signs that organizations unraveling.
The UK chair of KPMG stepped down after telling his people to stop moaning.
A Harvard Business Review article chronicles how working from home is starting to erode trust in organizations.
Burnout is escalating and people are exhausted. I shared this article on LinkedIn and the next day my post was trending. I'd hit a nerve.
Building Healthy and Sustainable Organizations in the Midst of a Pandemic
I think we need to take a step back and think about how to foster love, understanding, and strong relationships in our organizations if we are going to get through this pandemic. I feel strongly that if we take this approach – we will build more trust, more cooperation, and we'll increase motivation and commitment in a way that is healthy and sustainable.
I've mapped out the path to building this kind of workplace in my book Job Love. I wrote this short guide two years ago but I believe the lessons it contains are even more critical than ever.
There are Many Kinds of Love, So Why Not Job Love?
"Did you know there are thirty-two names for love in one of the Inuit languages?" August said. "And we just have this one. We are so limited, you have to use the same word."
This quote is from one of my all-time favourite books, The Secret Life of Bees by Sue Monk Kidd. In it, the main character is searching for love and belonging. It is a beautifully written story and a strong reminder of the importance of love to our happiness and feelings of self-worth. This quote also resonates with me as I think about the concept of Job Love. I do believe there are many kinds of love. The love I feel for my spouse, my mother, my kids, and my dogs, my cat (yes, it's a zoo at our house!), and my friends are all very different. But they are all important. Shouldn't we be trying to build the same strong connection between our organization and the people who work there as we do in our personal lives?
I think the answer to this is yes, and I will explain why.
Why We Need Love in the Workplace
The world of work is complex. Organizations are constantly navigating change and uncertainty, trying to stay alive, stay ahead, and stay relevant. The people who work for these organizations wake up every day wanting to contribute, feel a sense of belonging, and find meaning in their work. The one thing that can make a difference to both is a strong relationship founded on understanding, trust, respect, fulfillment, loyalty, cooperation, and passion. If you reflect on any loving relationship, aren't these the foundational qualities?
A Guide to Creating Job Love
I've written a book that looks at all of these relationship success factors from the perspective of internal communications. Each chapter unpacks each of these qualities and then explains how internal communication can help to build them within organizations. Take the chapter on trust for example. Brené Brown uses the marble jar as a metaphor for teaching that trust is, "built slowly, over time, and in small moments." There are many small and easy changes that you can make that will ensure internal communication builds trust instead of destroys it. Small things like making sure your employees are informed first and bigger things like making sure senior leaders lose the jargon and fancy words.
It's been two years since I wrote the series of blog posts that became the Job Love ebook. The reason I'm writing another blog about the blogs (as ridiculous as that sounds) is that I think the concepts in the Job Love ebook are even more important now than ever.
At its core, the Job Love approach is about building a more human workplace. One that is in tune with the individual needs of employees with a whole-person approach. The pandemic has taught us that people have lives outside of work (what a concept!) and we can no longer separate the two. We have an opportunity to build deeper and stronger relationships at work starting with how we communicate with them.
How to Get Started
The Vision2Voice heart-shaped logo is no mistake. We truly believe successful internal communication starts with solid relationships. If you're looking for how you can begin to incorporate the same concepts into your workplace, I encourage you to check out my Job Love eBook or contact us — we'd love to help!