More than Words: How Internal Communications Can Fight Systemic Racism and Racial Injustice at Work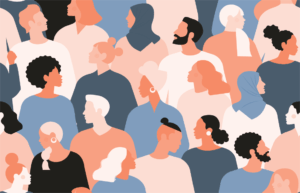 Written by Ann Melinger, Brilliant Ink & Andrea Greenhous, Vision2Voice
It all started with a feeling of helplessness. There were voices in our heads holding us back.
We were two white women watching the fight for racial justice in our countries (the US and Canada). There were protests in the streets, outrage on social media, and frustrations surfacing in the workplace.
We wondered, what can we do to support change as experts in creating great workplaces through strategic internal communication.
We listened…

      We read…
            We reflected…
Then we both realized, the work we do CAN and DOES make a difference. If we do it right, there are many ways internal communications can contribute to greater equity, diversity, inclusion, and belonging. We can have a deeper and more profound impact on the workplace because internal communication (when done right) is so much more than putting up posters to celebrate Juneteenth or Black History Month.
While it's clear to us that Internal Comms can not solve the challenges of deep-rooted institutional racism on our own, there is a lot that we CAN do.
Here's our list!
Help leaders find their voice
Although we can not force senior leaders to acknowledge or address racism and bias that exists inside the company and beyond, we can help them define and articulate their perspective. And that work is extremely powerful – by helping leaders express why Diversity, Equity, and Inclusion matter to them, we can help them create a narrative to guide the actions and behaviors of the entire organization. 
As we know, words carry weight, especially words from the C-Suite, and employees (and customers) are looking to leadership to set the tone and express the organization's Diversity, Equity, and Inclusion philosophy. Many leaders are so fearful of saying the wrong thing that they default to overly sanitized or broad statements of support. We can push them to communicate openly and candidly about hard topics and reassure them that while their words and efforts will never be perfect, they must have the courage to get out there. Share helpful articles and books. Don't feel equipped to appropriately push or support your leader? Look to outside support. 
And most importantly, we can ensure that any communications that are shared around Diversity, Equity, and Inclusion have action to back them up. We must ensure our leaders are not simply going through the motions or paying lip service to the issue, but sharing specific plans and establishing accountability.
Expose bias and inequality by listening to employees
If ever there was a good time to listen to your people – this is it. Building mutual understanding and respect by harnessing the voices of your employees is critical to building buy-in, support, and connection.
Internal communicators have their finger on the pulse of the organization and are excellent listeners. Consider leading a virtual focus group or two with your company's Employee Resource Groups to understand how and where they've seen or experienced bias within your organization. Invite leaders of color to share processes or behaviors that get in the way of their success. Gathering candid feedback on the challenges your people face can help to guide all future efforts.
Don't forget!
You won't hear a peep unless your organization has a culture of openness and psychological safety. When people can question the status quo and speak with candor it will be much easier to bring to light the processes and systems that create inequality and injustice.
Foster a learning and growth mindset
One of the biggest barriers to true equity and inclusion is unconscious bias. We all have biases. They are how our brains make sense of a complicated world – by creating shortcuts and implicit associations. 
Uncovering our biases is the first and most important step in eliminating them. When internal communication deliberately works to build an organization with a collective learning mindset, it makes it easier for employees to acknowledge that they may not know everything, including themselves.
Strategies that build a learning and growth mindset often include elements such as specific communication from senior executives about the importance of learning, investments in content designed to build awareness, understanding, and knowledge, and corporate storytelling designed to promote learning.
Shine a light on tools and resources
A well-known American movie once said, "If you build it, they will come." Well, those of us who work in internal comms know that's certainly NOT the case. Creating tools and resources to support employees and create a more inclusive, psychologically safe work environment is a meaningful first step, but the next step is ensuring employees are fully aware of what's available. 
We can partner with other functions (especially HR) to educate and inform employees about steps taken and available resources. For example, if the company offers unconscious bias training, we can help to ensure employees throughout the organization are aware and take full advantage. Nobody is better equipped to help employees understand and access things like Employee Resource Groups, mentoring programs, training, an Employee Referral program, etc.
Make workplaces more human
Studies have shown that when we make people less human, we see them as more of an object and less as a person. When this happens, we detach ourselves from their humanity and struggle to identify with them. This process makes it easier to turn away from their suffering.
By making our workplaces more human, we become more aware of hardship, suffering, and the exclusion of others. It allows us to connect to people more fully – to be able to empathize with them and support them in meaningful ways.
We've both worked in many organizations where internal communication is robotic and contrived. Encouraging leaders to speak from the heart, putting the person at the center of communication design, and using language that is warm and friendly are all easy ways to set the tone for a more human workplace.
Foster a sense of belonging
We are starting to see the word 'belonging' added to diversity and inclusion and this is a trend we hope is here to stay. Why? If you are going to unleash the potential in every person in your organization, they must feel safe, welcomed, celebrated, and cherished (thank you, Francis Frei and Anne Morriss).
Creating a sense of belonging starts with internal communication. Much of the work we do helps break down silos across organizations by building bridges of understanding. The same tactics can be used to create a sense of belonging among people with diverse backgrounds. 
In many ways, we are the voice of our company and therefore we have the power and ability to ensure that everything our company communicates is inclusive, representative, and reflective of the culture. We are responsible for ensuring that the language and imagery we use is inclusive and representative, and avoiding "tokenizing" any one group or individual. Internal communicators are also corporate storytellers and sharing stories that celebrate differences is yet another way to create a workplace where everyone belongs.
So…where do we go from here? 
It's our hope that these ideas can help the internal comms community at large understand how and where we can make a real difference in creating more equitable workplaces. But because we understand how important – and how HARD – this work is, we're going to continue the conversation with UK-based comms expert Harriet Small. We'll follow-up this post with some tangible and tactical ideas from Harriet to help you get started. In the meantime, please share any questions or feedback in the comments so we can ensure Harriet addresses them, and be sure to check out Harriet's upcoming workshop, A Beginner's Guide to Diversity, Inclusion and Belonging and the Role of IC.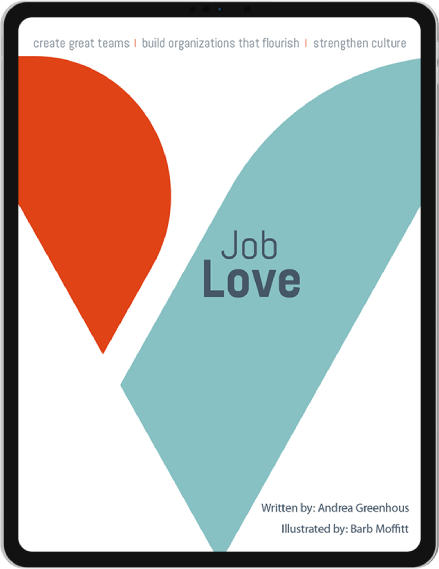 Job Love
Read The Free eBook.
This book looks at fundamental drivers of successful human relationships and applies them to the employee experience. Andrea shows how trust, respect, and even passion can be fuelled in the workplace with the right approach to internal communications.
Download the ebook