The Best Employer Brand Starts Inside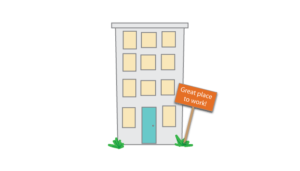 "If the brand doesn't live on the inside, it can't thrive on the outside. And if the brand isn't built from the inside, few may believe it on the outside."
These opening lines from the book Brand from the Inside changed the course of my career by fuelling my passion for internal communications. Today, I see organizations struggling to attract and keep awesome people. This brings me back to the lessons in the book, and what I have learned helping organizations improve their internal communication for the past 25 years: a strong brand starts inside.
Get great people lining up to work for you
One of the greatest challenges facing companies today is articulating their brand as an employer, which is defined as an organization's reputation as a place to work.
I believe every company is unique, and your employer brand should reflect the distinct personality of your organization. If you try to be something you are not, you may initially attract great people, but they won't stick around once they realize that your organization is not as advertised.
To learn a bit more about employer branding and its importance in recruiting the right people, I talked to John Fleischauer, Chief Talent Officer at Pivot + Edge, a company that provides managed recruitment services for small and growing companies. First, John and I talked about the challenges that recruiters face in today's job market. It was no surprise to learn that organizations are struggling to attract great people but what he told me next was an eye opener:
"Companies often don't know precisely the type of person they are looking for and so they struggle with identifying the right individual. Once they have identified the type of person they need, they don't have access to the volume and calibre of talent they need to fill vacant positions."
John agreed that there is nothing better for building your people pipeline than a great brand as an employer. And when I asked if companies struggle to create an authentic brand, his answer was, "100%".
Building an authentic brand as an employer
Your internal brand lives in employees. That is why I believe that your internal communications team is key to bringing your employer brand to life in a way that is true and real. Over time, internal communications can also work to shape your brand and positively influence how you attract and keep great people and keep them happy and motivated.
Here are some of the specific ways I see internal communications playing a key role in bringing your employer brand to life.
Understanding culture
Every organization has a unique culture. It is often hard to describe or put into words but if anyone can do this, it's the internal communication team. Through our work as listeners, we have our finger on the pulse of your culture and can clearly identify the values and behaviours that drive it. We also understand what matters to the various employee groups in your organization.
Through internal communication research and the metrics that we gather, internal communicators understand what makes your people tick and what they care about. This information is valuable for building a true employer brand. According to John, getting feedback and input from the employees (related to your employee brand) is a step that few organizations take the time to do, yet is extremely important for ensuring authenticity.
Capturing the voices and stories
The best source of inspiration for bringing your brand as an employer to life should be your employees and the internal communications team has an inside track on the stories and voices that can bring your employer brand to life.
The stories being told inside the organization can be used to capture the employee experience and provide potential candidates with a great idea of what life is like at your organization. A day in the life of a test engineer is not only a wonderful story to share internally, but it can also be used to recruit new test engineers for the team.
Finding what's cool and fun (there has to be something!)
In my conversation with John, he mentioned that there are always high-profile companies that are well-known as great places to work. These organizations have a cool factor that can result in a line-up of candidates just waiting to get a chance at a coveted role. My bet is there is something cool and fun about almost every company – even if it is in an old school business such as textile manufacturing or waste collection.
The internal communications team is well-positioned to uncover the elements of the employee experience that are unique and can bring it to life in a way that is fun and meaningful. I am not talking about posting silly pictures of fun team events, I mean genuine elements of the work and employee experience and finding a playful way to profile it.
Shaping the brand for the future
No brand is perfect, and every brand must evolve. Identifying the weak spots in your culture and the employee experience are important to the ongoing evolution of your organization and your employer brand. At the centre of this is your internal communications team who are constantly measuring and managing key business outcomes, who are monitoring culture and engagement dynamics, and who are on the front lines of employee feedback and input.
If you've read anything I have written in the past, you know that internal communication helps people thrive by fueling innovation, passion and purpose, creating a sense of belonging, and building alignment trust and cooperation. In what I feel is a full circle moment, starting with modern and meaningful internal communication that informs, involves and inspires employees will build a great brand as an employer that easily shines through and is real and true.
A final word
Every day employees make choices about where and how to work. They don't make these choices based on your website or your job advertisements. They make these choices based on what your employees are saying and how emotionally connected they are to your organization. Next time you are rethinking your career page, updating your Indeed or Glass Door profile, or getting ready to attend a job fair, give your internal communications team a call. Or, you can always call us — we're ready to help.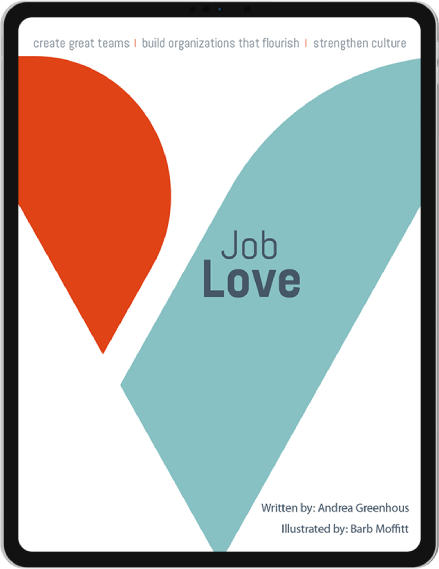 Job Love
Read The Free eBook.
This book looks at fundamental drivers of successful human relationships and applies them to the employee experience. Andrea shows how trust, respect, and even passion can be fuelled in the workplace with the right approach to internal communications.
Download the ebook