Job love relationship hack #6: cooperation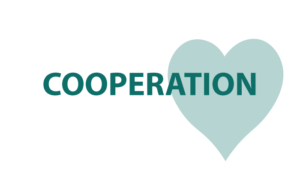 Engagement is probably the most overused and least understood word of the decade. I'd like to talk about something else instead: business results.
Don't get me wrong, it's a great thing to have highly engaged employees. It's just not enough to produce business success. In fact, I have seen first-hand cases where high performing organizations with very smart, committed and enthusiastic people seem to be spinning around in circles instead of driving straight ahead.
In my book, The Captain Wants to Water Ski, I tell the story of a Viking Captain who wants to water ski behind his ship. To do this, he has to harness the power of his crew who must row hard enough to get him up on his skis behind the boat. Achieving great business results is just as challenging as trying to water ski behind a Viking dragon ship. You need more than engagement – you need cooperation.
We are coming to the end of our series on job love where we have been exploring the factors that make the relationship between an employer and the employee work. Cooperation is key to every successful relationship because it is all about working together toward the same end, mutual support, partnership and unity. Cooperation not only creates strong and healthy relationships, it helps you achieve results.
"Alone we can do so little, but together we can do so much."
Helen Keller
Internal communication plays an essential role in building an organization where cooperation thrives. Here's how:
Make your purpose and goals clear
It's impossible to achieve results if everyone in the organization doesn't have a very clear idea of the organization's purpose, mission, goals and the strategy to get there. What also needs to be clear is how every individual should be contributing the desired outcomes and business results. Yet 61% of leaders say that their firms often struggle to bridge the gap between developing the business strategy and the day-to-day implementation. Communicating a clear purpose and getting everyone behind your business strategy is one of our favourite topics and you can read more about purpose and strategy in previous blog posts.
Get buy in
It is 2019 – yet some organizations still have a hierarchical structure where decisions come from 'on high' and people are left to adapt to the changing landscape. You won't get cooperation with this approach. What's worse is that you are wasting the brain power and experience of all of the very smart people you hired.
Start to use your internal communications channels to gather opinions and input from your teams. Become a leader who is smart enough and brave enough to admit that you do not know everything, and you don't have all of the answers. The collective intelligence of your organization is very powerful and this approach will also ensure you get the buy-in you need to ensure full cooperation.
Support collaboration
Many organizations have siloed and fragmented information systems, business processes, and cultures despite the fact that the need to work across organizational boundaries was championed over 25-years ago by Jack Welch.
One of the reasons it is difficult to change a siloed culture is that people think information is power. Well here is a revolutionary idea: isn't information more powerful if it is shared? Yes! Showcasing and sharing information will increase collaboration and make working together toward a common goal even easier.
Some of our most successful projects have been based on the premise that if you provide rich content designed around the user, people will use the it to educate themselves.  This approach also builds connection and understanding between teams.
Build a culture of cooperation to get your employees rowing in the same direction to help you achieve the right outcomes – business growth, a strong competitive position, and great financial performance.
---