Job love relationship hack #5: loyalty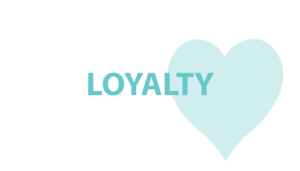 Fifty years ago, people expected and wanted a job for life. They 'punched the clock' day after day and in 25 years they got a gold watch. Then, after 30 years of loyal service there was a retirement party and a nice pension.
Today, the medium number of years people have worked for their current employer is 4.6 years (U.S. Bureau of Labour Statistics) and a variety of studies show that more than 80% of workers are ready to jump ship. Fifty years ago, they would have said: what in thunderation?
Now the important question is: does loyalty still matter? We think it does. Loyalty contributes to a healthy and thriving relationship between employers and employees and it is key to job love.
Like all relationship success factors in our job love series, loyalty is a two-way street. Mario Puzo said, "The strength of a family, like the strength of an army, comes from loyalty to each other." The same goes goes for any organization. It also helps keep awesome people longer, generates goodwill, and helps to build a great reputation as an employer.
The important question becomes: how do you create loyalty, and more specifically what does great internal communication have to do with it? Here are three ways internal communications can build loyalty in your organization:
Seek to understand
Empathy (the ability to understand the feelings of others) is increasingly being recognized as an important tool for bringing out the best in people. "Empathy is the most powerful connecting and trust building tool we have," Brené Brown. The thing is, communicators have always worked to understand our audience – it is really one of our most important jobs.
You can't connect with people unless you understand what makes them tick.
I once worked with a large construction company on a change project. The first thing I asked for was their business strategy. The second thing I did was gather a full picture of each audience group impacted by the change. It really gave us an idea of what mattered to the different groups impacted by the change and helped us frame the information in a way that was relevant and impactful.
Show you care
When you feel that someone cares about you, it helps create loyalty. I believe the best way employers can show they care is by listening and demonstrating that the voices of employees have been heard.
The first step in creating a culture of listing AND hearing is to make sure that feedback is highly valued. It is important that people feel that their thoughts and opinions matter and that it is safe to share them. You can plan an amazing town hall but if people are too afraid to ask questions or to engage in a dialogue with leaders then you are wasting everyone's time.
I've worked with organizations where the conventional wisdom was that people were tired of surveys. The only way that this can possibly be true is if nothing is done about the information collected. People never get tired of commenting on things or providing feedback if they know that it will make a difference. If you want evidence, just look at all of the comments people make on random news stories on social media – people want a voice.
Make the effort
Too often internal communication is an afterthought. It is a small department with an even smaller budget. Compare most internal communication groups and their budget to the marketing team and you will find a significant gap. Would it hurt to invest in a great app to connect your deskless workforce? Would it break the budget if you had a graphic designer as part of the team to make a visual impact? We think that these investments pay off by creating loyal, happy and committed employees.
Money and people are important but you can also make an effort by making internal communications a priority. Internal communications teams often struggle to get the time and attention of senior leadership. So when leaders say that employees are key to their success but yet don't place a priority on internal communications, their words start to ring hollow and a different message is sent altogether.
While this is a pet peeve of most internal communications professionals, the sad thing is that a lack of effort to create honest, clear and meaningful communication is glaringly obvious to employees too.
Building loyalty builds strength in your organization and remains important. Contribute to this important job love success factor with better internal communication.
---