Business planning? These Investments will Boost Results!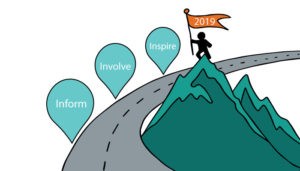 Many people I know are in the middle of some type of business planning exercise. It's a good opportunity to think about what you want to achieve, and how you are going to survive and thrive in an increasingly complex world.
Of course, the best plan won't get you anywhere unless you have motivated and energized people to make it happen. It's a fact, any initiative you are planning requires internal communications to succeed.
To bring your 2019 plans to life, you need to invest in your ability to communicate with your employees. We have come up with some options we think you should consider as part of your planning exercise if you want your people to be informed, involved and inspired.  We've included insights from our friends at Bonfyre and Jostle, both providers of innovative technology that supports modern and meaningful employee communication.
Here are five investments you can make in 2019 to improve employee communication:
1. Give your internal communications team a boost
Even the best teams need a coach. Bringing in someone who has experience with many different organizations can help your team tackle the toughest internal communications problems. Coaching can also give your team a boost with fresh ideas and knowledge that will help them learn and grow. Some coaches (like us) will even pitch in to provide support when the workload is high and you need an extra pair of hands.
2. Connect your workforce in new and powerful ways
Jake Bernstein, Bonfyre's Senior Business Development Manager is a strong advocate of a multi-channel approach for communications and says mobile must be in your arsenal, especially as your workforce gets younger. The proliferation of smartphones and social tools is ever-increasing, giving companies and communications practitioners almost no choice but to embrace mobile as the new normal. This includes using mobile to support how employees communicate with each other and how they receive information from the company and leadership.
According to Bernstein, "Modern communication practitioners have to use tools that meet the expectations of how employees share in their personal lives. They are used to sleek, intuitive user experiences, creating and consuming content on their terms, and connectivity to the information and people most relevant to their personal and professional lives."
3. Get creative
Budget for some graphic design work or some writing talent to boost the effectiveness of your internal communications. So many organizations spend thousands on creative agencies so their messages will capture the hearts and minds of their external audience. How about investing in some creative work so that your internal messages stand out and make an emotional connection to your employees, who are the heartbeat of your organization.
4. Invest in your intranet
All too often, your intranet site is an afterthought, yet according to Bev Attfield, Director of Brand|CX|EX at Jostle, technology solutions like an intranet are an indispensable part of a productive internal communications strategy. A successful intranet is one that's used to connect people and make work easier. Investing in a good intranet will help you solve communication problems, bridge disconnects between teams, build culture, centralize information and activity, simplify processes, and improve workflow. It produces tangible, measurable results that improve productivity and the employee experience.
"Your internal communications strategy is only as good as the channels and tools you use to deploy it. Think about your objectives and audience, and then look for the right tool to help you get there", says Attfield.
5. Go all in
Vision2Voice Communications has a one-year program that will completely transform employee communication in your organization. Our exclusive I3Program includes five steps designed to build an internal communication program that will inform, involve and inspire your employees.
Drive real bottom line results in 2019 with one or more of these internal communications investments. Want to talk numbers? Need to know what the best option is for you? Give us a call and we can help you get started with a free 45-minute strategy session.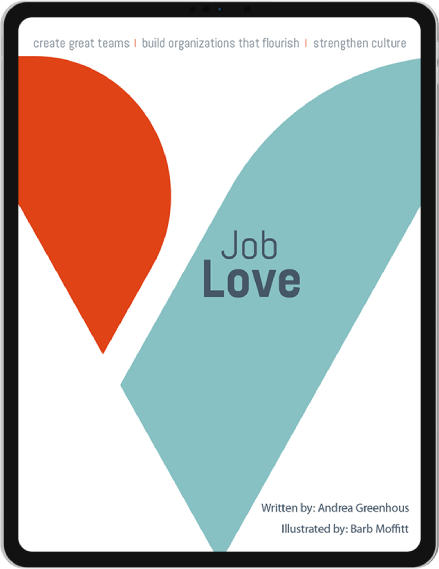 Job Love
Read The Free eBook.
This book looks at fundamental drivers of successful human relationships and applies them to the employee experience. Andrea shows how trust, respect, and even passion can be fuelled in the workplace with the right approach to internal communications.
Download the ebook