Gather around the Bonfyre and we'll share some great news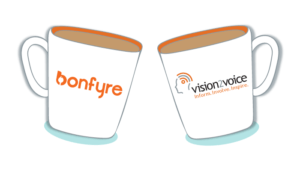 You don't often find it – a connection that seems right from the start. That's what happened to us. We discovered another company that we quickly felt had similar values, and a mission and vision very close to our own. Heck, even our corporate colours were the same!
We have always been strong believers in the power of relationships in the workplace. We knew that social connections and a modern approach to communicating with technology would be important to our clients. When we met the people from Bonfyre and started learning about their culture and engagement platform, we quickly realized that the Bonfyre app was something we should explore.
Then we started using the Bonfyre app. It helped us learn more about the people and the technology, and we loved what we saw. We started building our own relationships with the team at Bonfyre using the app – sharing pictures and stories, which helped strengthen the bond between us. The Bonfyre team is amazing – the term good people comes to mind. We have marveled at their creativity, ingenuity, and professionalism.
The Bonfyre app is an internal communicators dream – it provides a platform that checks all of the boxes and more. It has the power to connect a mobile and dispersed workforce and has endless possibilities when it comes to supporting change. It makes communicating fun and easy with peer to peer recognition, polls, surveys, broadcast messages and more. The metrics are nothing short of amazing!
Our joint venture with Bonfyre is the start of a great business relationship as we work together to improve engagement, build great cultures, and accelerate performance.
 To say we can't wait to bring the Bonfyre platform to clients is an understatement. Give us a call today and let's work together to build a Bonfyre and pair it with employee communication strategies and programs that inform, involve and inspire.
Read our news release.
---